Underwater world: new bike garages at Amsterdam Central Station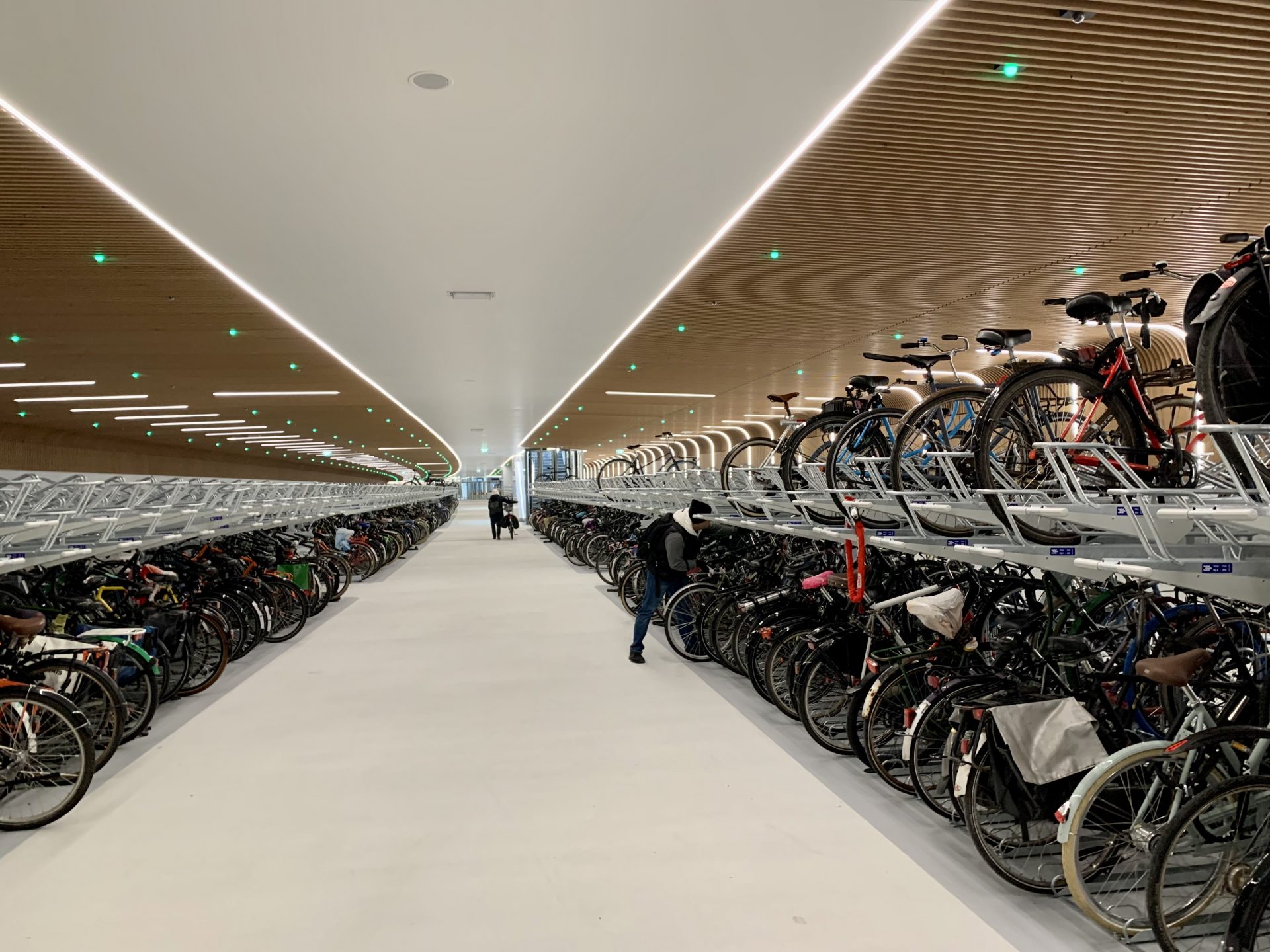 It is well known that Amsterdam is a cycling city. According to estimates, the Dutch capital counts as many bikes as inhabitants. 58% of Amsterdamers cycle every day, and 40% of all movement in the city takes place by bicycle. Less well known, however, is that many Dutch bikers are so-called treinfietsers: 'train cyclists' who cycle daily to the nearest station, where they continue their journey by train. In total, they make up about half of all rail passengers – which means that there is a great need for bike garages facilities around Dutch stations.
At Amsterdam Central Station, bike parking facilities used to be squeezed into every available nook and cranny. However, this could never fulfill the demand, which is why there were also many well-filled bicycle racks in the public space around the station. In 2001, a garage for 2500 bicycles designed by VMX Architects was added, located in a dock next to the station. It was only designed for five years, but ultimately remained standing for 22 years. Now it is finally being allowed to retire, as two new permanent garages were opened in early 2023, increasing the parking capacity at the station by 11,000 spaces in one fell swoop. They are located in a rather unexpected place: under water.
Remarkable engineering feat
On the north side of the station lies the IJboulevard bike garage. It is located next to a new station hall on the waterfront, which was opened in 2013 and replaced a four-lane road. This gave Amsterdam Central a second main side. Beyond a two-lane cycle path, a 6000m2 plateau has recently been added, where tourists with or without trolleys stroll and take photos of the skyscrapers on the opposite bank.
Most of them probably don't even know that they are actually standing on the roof of a bicycle parking garage, designed by Amsterdam-based architects VenhoevenCS. Two entrances with a ramp and a staircase lead down into the underworld with 4000 parking spaces. However, the space doesn't feel like an underworld at all: flowing lines, wood-clad walls, subtle lighting, long sight lines and two works of art on the end walls are intended to make the parkers feel comfortable and happy to use the garage. Behind this is a remarkable feat of engineering, as the three 100 x 30 metre tunnel segments were prefabricated and brought to the site by water. Since they are located in a bend in the river, they also had to be provided with a collision protection. Coconut mats, bio huts and porous concrete between the pile foundations make them attractive to the underwater world.
9 metres under water
An even larger bicycle garage was realised at the same time on the centre side of the station – also under water, but in this case under a harbour basin. The tour boats sail above, and up to 7,000 bicycles are parked below. The entrance to the Stationsplein, which lies 9 metres below street level and was designed by architecture firm wUrck, is on the south bank of the harbour basin. Conveyor belts between walls of basalt stone transport bikes and riders down within two minutes, without obstructing the listed view of the station building. Once at the bottom, you find yourself in a large, bright, uncluttered space with seamless floating screed flooring and backlit walls. A slightly curved colonnade of drop-shaped columns points the way. Once you have parked your bike, you can walk dry-footed to the exit, which leads directly into the station hall. On the way, you come across several works of art: back-lit oculi with historical views of the city in the ceilings of the colonnade and two reliefs by artist Lex Hoorn, flanking the exit.
What both bike garages have in common is a chique little pavilion for service employees and the double-level racks with detection system for bikes. You can check in and out with your public transport chip card. As in all bicycle parking facilities operated by the city of Amsterdam, the first 24 hours are free. After that, you pay 1.35 euros per day. However, this is not for making profit, but rather intended as a measure against unwanted long-term parking – because when the free temporary parking garage by VMX Architects was closed, 500 abandoned bicycles were left behind.
Fancy a look inside the bike garages? On an architectural tour of new projects around the main station and on a bike infrastructure tour with architour, both parking garages will be visited.
Text by: Anneke Bokern, Architour