A new museum landscape will await travellers coming to Bilbao after the pandemic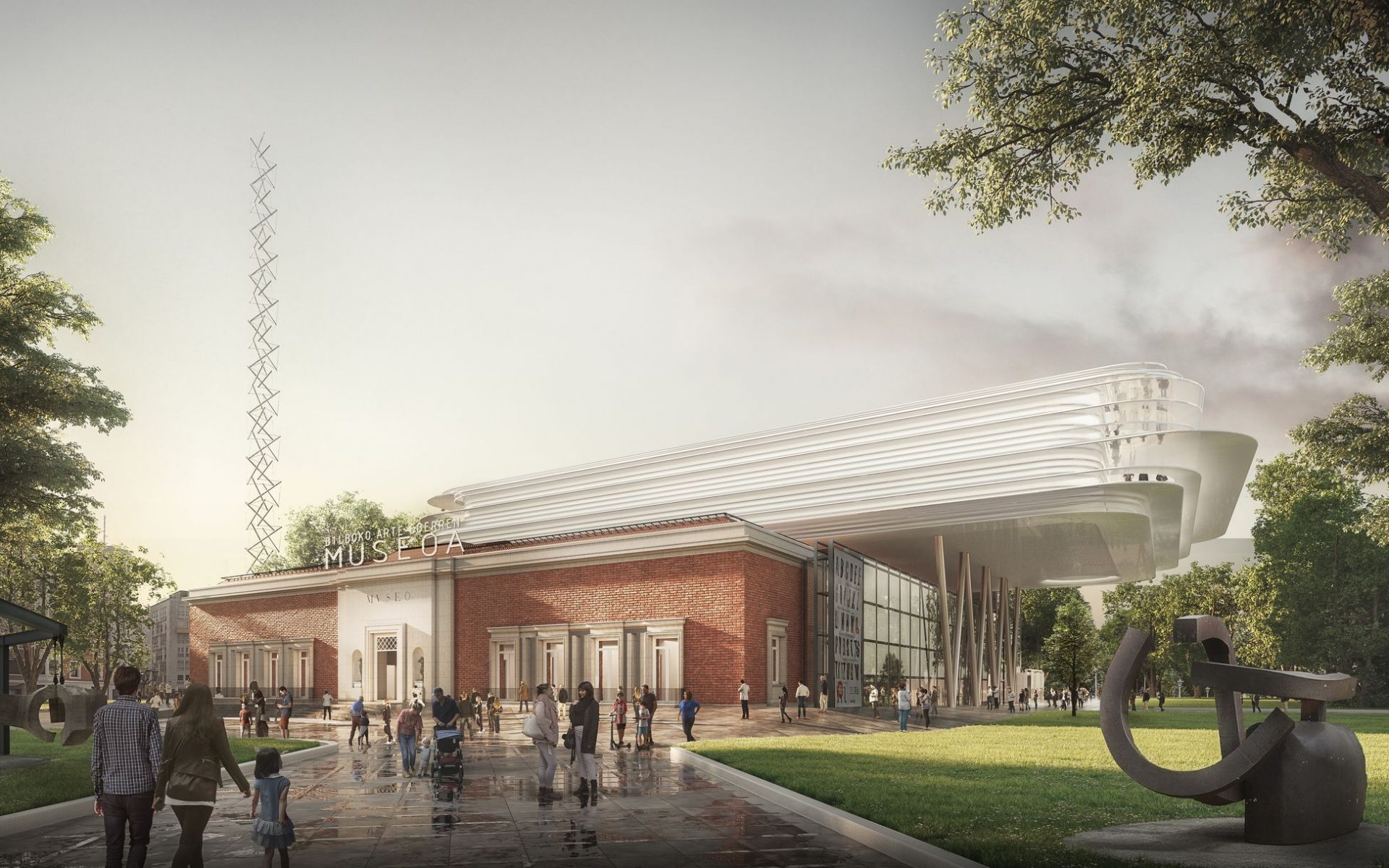 A new museum landscape will await travellers coming to Bilbao after the pandemic.
Two promising projects – counterbalancing the dominant position of the evergreen magnet of the Guggenheim Museum, that helped to establish the town on the international stage 24 years ago.
Both projects are adding a new chapter to their varied history, both are based on a cluster of pre-existing buildings, both projects have been recently presented to the public… And both stories started with an architecture competition.
The FINE ARTS MUSEUM of BILBAO is exhibiting an amazing art collection in a cluster of buildings that were joined together in the museum's previous remodelling completed in 2003. In 2019 the architect of this last project – Luis Mari Uriarte – teamed up with Norman Foster to participate in the architecture competition for the extension and remodeling that is starting to be realized today.
A new horizontal volume will be set on top of the existing buildings adding a new wide horizontal exhibition space in its interior. At the same time the exterior courtyard underneath is transformed into an interior atrium. The main entrance of the building will revert to the northern facade that is directed towards the Euskadi Square and re-establish its principal entrance.
The BILBAO BASQUE MUSEUM is located in the middle of the old town spread onto several old existing buildings surrounding the three-floored courtyard of the initial jesuits school of San Andrés. The recent aquisition of two more existing buildings formed the basis for the architectural competition to restructure the entire complex.
The Pamplona based office of Vaillo & Irigaray won with a project that connects all the existing parts into a strong architectural unit. The future heart of the complex will be the central cloister – covered and transformed into an internal space.
The recently added long and narrow east-wing will be gutted from the ground up to the roof.
In the middle of the empty space a horizontal wooden beam – inspired by a reference to the trunk from the Basque people's sacred tree in Gernika – is the main element separating the three spaces above, underneath and inside. By remodelling the extended exhibition space and the exhibition concept, the museum will step out of the shadow of other attractions.
In the the old town a new bastion of contemporary architecture emerges – a must-see in a professional architecture tour of Bilbao.