Saint Vincent de Paul in Paris: Sustainable and participatory Urban planning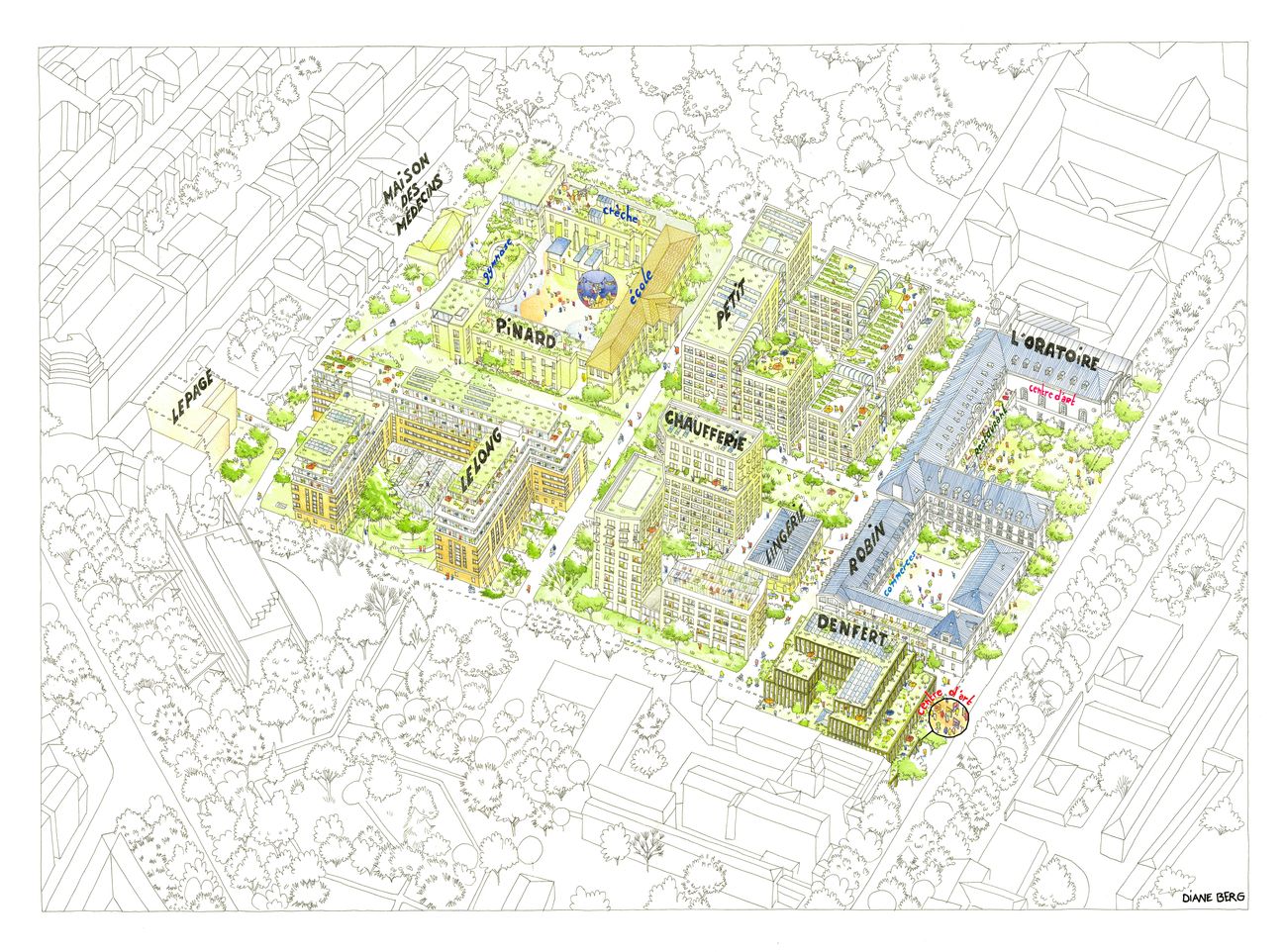 How can one transform an old disused hospital into a new sustainable neighborhood? That is the goal for the Saint Vincent de Paul project by local public developer P&MA in Paris.
The complex – a pediatric and maternity hospital that closed in 2012 – covers roughly 3.4 ha in the 14th arrondissement in Paris.
The urban planner Anyoji Beltrando agency chose to preserve around 60 % of the site's historic buildings including the distinctive sunken courtyards or "cours anglaises" in French, and proposes four new contemporary building blocks – organized around 4000 m2 of green space.
The programme of this mixed-use neighborhood includes housing – both social and free-market – public and private amenities, shops and businesses including the shared flexible-use 4,000 m² "Pinard" building hosting a daycare, a school and gymnasium, which will be partly open to public during off hours.
Resilience! zero carbon, zero waste and zero water rejection
A high standard of energy efficiency is set using Passivhaus standards on all buildings. A heat exchange system, using the non drinkable water network of Paris, is supplemented by the local urban heat network, aiming for 100% renewable energy by 2050. All existing materials that can be reused are used on or off site. Rainwater will be reused and stored on site and not added to the sewage network.
Collaborative Urban Planning – Saint Vincent Paul
Coordination workshops bring together all of the parties involved in the «commons», or collective spaces: designers, project owners, project initiators, property managers, City of Paris, etc. so that they can fine-tune all aspects, including cohesive architectural design, the relationship to public spaces and handling of business premises.
Temporary occupancy
The associations Aurore and Yes We Camp, and the Plateau Urbain cooperative organized the temporary occupation called: Les Grands Voisins. The site was temporarily transformed into a welcoming live-work space which extended a revitalizing influence well beyond the project and the neighborhood. The space had become an attraction unto itself and influenced some aspects of the future programme of the site.
In completing the project, the public local developer Paris&Métropole Aménagement is inventing a vision of Paris in the future: by reducing the cities carbon footprint and spreading a form of property development in which the users are active participants.
Text: Catherine Haas Adler, GA Paris